PART 1
Look, before I even get started. I am not a Microsoft fanboy and I am not a Apple fanboy, and I don't hate either of their operating systems either. I am just a person that uses both Windows and Mac OS on a frequent basis for graphic design, web design, gaming and even just surfing the net. I hear people almost everyday praising Mac/Apple computers, whether it's my teachers, co-workers, friends or family. These people can all have one of these statements applied to them:
They have never been familiarized to a Windows PC, and refuse to be.
They use a Mac to check emails and surf the web.
They don't even own or use a Mac at all, they just repeat what they have heard.
1. They have never been familiarized to a Windows PC, and refuse to be.
There exists some real die-hard fans of Apple out there that have never really touched a Windows PC in their life because they are convinced it doesn't work as good, as fast, as fluid, or even work at all. Some of these people only use one reason, and one reason ONLY to why they use Macs over Windows PCs. Some of those reasons include:
Mac <OS 10,9,8…> is so much easier to use and more user friendly than Windows.
You're just being blinded by the graphic user interface and the hardware exterior. Let's face it, Mac's interfaces through computing history usually look better than their Windows counterpart. The presentation and overall look of the monitors and hardware exterior is also much more appealing then the standard PC (non-gaming that is). But instead of making up fake excuses, just go out and say it, "I like the way they look", because even the newest Mac OS is not any easier than XP or even Vista. It's the same damn thing and you know it, there's just different methods of doing the same thing.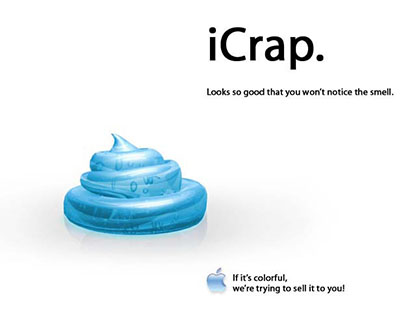 Microsoft stole Windows architecture from Apple, and continue to copy them to this day.
Of course, there's variations to this claim, but it's still a pretty stupid reason not to use something, even if it is true. We import lots of things to our country from different places all over the world, for examples spices. At one time, thieves may have stole these spices and brought them back for trade. Does that mean you shouldn't use pepper because it was stolen and traded at one point in time? A pretty weak analogy, I know, but it's a pretty weak claim too. Microsoft continues to do what works, what the users want; if they didn't then we would all be using Macs right now.
Macs don't get viruses or spyware.
That's weird that there's tons of virus protection software out there for Macs then, isn't it? The most popular PC-based scanner and protection software usually also have a Mac version. That's really strange, isn't it? Look, it's true that there's less of a security risk on Macs because virus programmers usually want to create the biggest impact on the public, so why would they go with 10% (actually 7.6% as of June 21st, 2007) of the computing population over 90%? The percentage is rising though. Let's see how the Mac stands up against security issues at 20% or 30%. I think Microsoft is doing a real good job at controlling security at 82.4% of the market share, especially with their advancements in Vista.
2. They use a Mac to check emails and surf the web.
These are possibly the worst type of Mac users of them all. Of course you love Macs if all you do is read email and surf the web, because that's generally all it's good for (don't get mad yet). I mean, even with emulating software (weird that there's tons of emulators out there for Macs to run Windows applications and games, but not many Windows to Mac emulators) you are not going to be able to run millions of useful applications and games. And while on the subject: It's emulated, so it's not going to run at a full Windows speed, if it actually runs at all.
While I'm at it, let's dispel another thought. Most people think that all graphic designers, animators, movie makers or any type of creative professional at all use Macs. Sure, that was how it was a long time ago; unfortunately the stereotype stuck. All Adobe/Macromedia (now Adobe anyways) work for both operating system now, interchangeably. The only thing different is the hotkeys and some of the interface; which are all based around the keyboard for Macs because they refuse to get out of 1980 and supply a default two or three button mouse. Hell, even some Adobe programs only ever seen light on Macs in the most recent Creative Suite, like Adobe Premier Pro CS3 (which is hailed to be better than Apple's Final Cut Pro).
For one last comparison, let's take a look at Maya, a very powerful 3d animation program (used at Pixar). You need a very powerful computer to be able to run and render in Maya. You will not be able to run this program effectively on your standard Mac computer, because Mac computers don't innately come with good video cards (because of no gaming support), and will not be able to run or render Maya, or very poorly. Yet, on the Windows-based PC side, any computer with 1GB of ram or a decent video card will be able to run it. Supposedly one of the minimum requirements for Maya is also a three button mouse, which I found hilarious.
3. They don't even own or use a Mac at all, they just repeat what they have heard.
Look people, you have never used a Mac, you have never owned one. You probably really want to buy one, because in all honesty, it's the cool thing to do, and they look so damn nice. But really, is it worth it? Is it worth the extra thousand dollars to be so non-conforming that you end up being an even bigger cliche? But please don't think you know anything about the Mac OS, because you don't.
–
Sure, buy a mac if you want to read a PDF, if you want to surf the web, and maybe even to match with your iPod. Buy a Mac if you want to design, make movies, or do anything. Because, in the end, it's the same thing as a Windows PC, just more trendy. It has faults, it is fallible, just like Windows, just like Linux, just like you. Stay tuned for part 2 where I write about designing on a Mac.
4 Comments »
RSS feed for comments on this post. TrackBack URL
Leave a comment